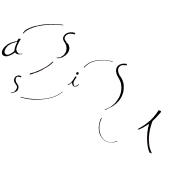 Post 2010
One step at a time is good walking
By Lucy Ridsdale on October 24, 2010
Dear all ASSiST crew and friends, I'm off on my 1000km walk from my home in Fremantle to Albany on the south coast of Western Australia. I think of you all, and take you all with me in my heart. The address of my blog is: http://wildgoosewalking.wordpress.com/. I would love to share the journey with you! Love, Lucy
Poems for Gabrovo (they need poems!)
By David Haley on September 3, 2010
One man, one tree, one river, one day
Man walks deep in thought
His path absorbed by the ground
Man thinks deep in walk
______________
On the moon man walked
Some small steps, some giant steps
Meanwhile, down to earth
______________
Man breathes many breaths
A thousand species expire Alive to be pleased
_____________
With the sun behind Footprints grow ever longer
Is this rainbow's end?
______________
Clouds form
thunder rolls
The man walks into the wind
Sunset, no rain falls
_______________
Eyes streaming, breath short
Dry river meanders by
Walk into the sun
The future and other creation myths
In water we evolved
Of water we are made
From water we are born
With water we live
To water we return
By water we may know
…time was before time that life hung by chance in a mist of water and dust not knowing which way was up as the winds drove atmospheres to spin and storm between volcanic ferocity and gravity clashing as the dice rolled a millennia or two for a few carbon atoms to meet in a droplet and then caught in the moment struck by lightening charged to live in many oceans of possible forms made of themselves splitting, joining and sharing each with each in seeming infinity far from equilibrium suspended in rich brine until the memory of potential fusion to become complex and diverse permutations some of whom used the sun's energy from the clearing skies to consume more carbon and issue oxygen making a new atmosphere in which to evolve as new species to become and inhabit new kingdoms but some returned from the mineral surface to enjoy their refuge in water…
…come to pass…
…time was when there was a shift in the weather, it got even warmer and the glacier stopped moving and melted where it was and life awoke as one droplet of water melted from the ice and joining another liberated droplet, they ran to a third and a forth, waited a wile for a fifth and sixth to run into them in quick succession over the ice they ran and fell and splashed, building-up behind ridges and brimmed over tirelessly joining and being joined by other drops again and again and again and again for millennia added to by the rains spilling forth to carve in the emerging ground a river channel that invented and improvised around shifting hills and through gaps joined other streams and pools taking time, invigorated by every twist turn confluence and diversion as the river rushed from the mountains then meandered across the plain depositing silt and rich minerals looping back and forth to a mighty gorge where it squeezed through to run to a spreading channel where it met and spun into vortices of warm brine on a flow tide from the new ocean…
…come to pass…
…time was when it rained and rained and the aquifers filled and the river rose to meet the people watching as they spent so much of their time waiting for one in one hundred years to see if their defences would hold against the moment and some prayed, some fled and some felt they were one with their property and refused to let go of the reassurance of re-insurance so they waited and watched lifetimes in the moments of a million droplets falling they ran to the river to see which droplet would be the one to break the surface tension of disbelief…
…all things come to pass…
MY SIGNIFICANT OTHER
Potential for life
Clouds form, rain falls, rivers flow
Water remembers
All depend on it
It depends on no other
A life of its own
Bountiful planet
The unimaginative
Ruthless denial
__________
Controlling empires
One step back is a long way
At the ocean's edge
Theatre of war
Spectre with a smoking gun
Suspend disbelief
Forgone conclusion
Evolution modified
By market forces
__________
Commons for a song
Somewhere between drought and flood
Plateau of despair
The end of the show
The end of all paradigms
The end of the pier
And when time runs out
My significant other
The last drop's for love
Notes from the introduction to ASSiST 2010

By Oleg Koefoed on August 21, 2010
This morning, the first formal encounter took place at the summer school, in the conference room of the Hotel Balkan (pics and videos coming up). Formal, because of course, there have been informal encounters, people meeting in planned or accidental ways in places around Europe, Bulgaria, Sofia, and now Gabrovo. About 30 persons have made their way to this wonderful site in the heart of Bulgaria, 30 'learners' (or un-learners, to paraphrase Sacha Kagan's introduction) from a number of countries: Australia, France, Cambodja, Italy, India, Indonesia, Bulgaria, Greece, Denmark, Russia, UK, US, Canada, Brazil, Egypt, to mention some. Though in this context, the nationalities already matter much less, for as one of the participants remarked, all of us already have such a wide range of action and learning that we do not feel so much as having a national identity as being members of different communities, some local, some trans-local, some global, some even virtual. Many of these networks and communities are present in the room here, and one could probably travel between them by following links from this site to the rest of the web.
The first introduction was given by Nadezhda Savova, director of the I3C, one of the main partners of the summer school, and responsible also for two evening workshops, based in the local bread-house, turning into a community center. The focus of I3C is relevant very much so for the summer school, as it attempts to strengthen connections, forces, and collaborations between organisations, individuals, networks, and communities, that do not have a huge background in terms of power or financial resources.
NZ spoke briefly of the egg with a tap, is symbolic for the city of Gabrovo. It symbolises the reputation of the city's inhabitants for being stingy, or at least for being aware of the need, especially in times of need and lack, of being economic and pragmatic. This however also connects to the role of Gabrovo as the "capital of humour" not only of Bulgaria, but of the world..
Sacha Kagan gave some introduction to the ideas behind the summer school, personal, organisational as well as theoretical. Sacha will post a short version of this short introduction later today.
For the intros to the workshops by Laurent Malone, Insa Winkler, Barbara Founder, Carlos Jimenez, PK Radikha, Arka Mukhopadyah, Nadezhda Savova, David Haley, and Oleg Koefoed, follow the development in this site over the next days.
ASSiST 2010 Program
By Sacha Kagan on July 8, 2010
The dates for the Summer School: From August 21st (in the morning) to August 27th (late). Our recommendation to participants will be to arrive already on the 20th, and leave on the 28th or 29th. (On the 28th, there will be an important cultural event in Gabrovo, which may interest some participants: More information on this soon...)
See the draft program as PDF file: program draft-18.08.2010.pdf
(This is a draft program, and is subject to changes.)More detailed information on the program are being published by the respective workshop organizers, on this online platform (as blogs)...
LOGISTICS
By Sacha Kagan on Juny 28, 2010

Some notes on the logistics for the Summer School in Gabrovo, compiled by Nadezhda Savova (I3C):
ACCOMMODATION
The home of the Summer School will be the classical old-time centralhotel in Gabrovo called Hotel Balkan (the name of the mountain wherethe city lies). Here is the hotel website for more pictures. Our accommodation at the hotel is covered by theMunicipality of Gabrovo who warmly greet us as their internationalguests!Hotel Balkan is in the city center, very close to the bus station where we all will be arriving from Sofia. The address of the hotel is 14, Emmanuil Manolov str.
FOOD
The accommodation does not cover food, but food at the hotel and aroundGabrovo is extremely cheap (for a home-style, cooked three-courselunch meal at the hotel you would pay around 2euro!). At the sametime, not having fixed meal times gives us a lot of flexibility withthe workshops and the meal preferences to suit each taste.
TRANSPORTATION
The Municipality of Gabrovo will secure a bus to take us to a specialand very interesting local open-air museum in Gabrovo. From Sofia toGabrovo and back each participant will cover his and hertransportation (by bus), which is a total of 20 euro round-trip andwith the taxis between the central bus station and the airport inSofia additional 15 (just in case), so about 35-40 euro fortransportation depending on the taxi. The schedule of the buses is here - as you can see, they leave quite often the whole day long until 17:00).
VISA
Please, check as soon as you can whether you need a visa for Bulgariaand contact immediately the Bulgarian embassy consular section in yourcountry to check exactly what documents they need from you as anapplicant - in particular, what invitation letter do they need us fromBulgaria to send to the embassy (in what language and specifying whatdetails from your passport, period, place to stay, etc.)? I will sendthe letter to each place individually, so just let me [i.e. Nadezhda] knowthrough an email.
For all logistics-related, and other questions about Gabrovo, please contact Nadezhda! Thank you.
Becoming the Path - Themes, Images, Inspirations
By Arka Mukhopadhyay on April 10, 2010
"One access to the creative way consists of discovering in yourself an ancient corporality to which you are bound by a strong ancestral relation. So you are neither in the character nor in the non-character. Starting from details, you can discover in you somebody other - your grandfather, your mother. a photo, a memory of wrinkles, the distant echo of a colour of the voice enable you to reconstruct a corporality. First, the corporality of somebody known, and then more and more distant, the corporality of the unknown one, the ancestor. Is this corporality literally as it was? Maybe not literally - but yet as it might have been. you can arrive very far back, as if your memory awakens. This is a phenomenon of reminiscence, as if you recall the Performer of primal ritual.
Each time I discover something, I have the feeling that it is what I recall. Discoveries are behind us and we must journey back to reach them. With the breakthrough - as in the return of an exile - can one touch something which is no longer linked to origins but - if I dare say - to the origin?" - Grotowski Do feel free to respond to this between now and the summer school.
Warmth and peace, A
Bruce Barber Workshop coordinator
By Bruce Barber on March 30, 2010
Since 1998 Halifax based artist Bruce Barber has collaborated with a number of individuals and institutions in Canada, (Halifax and Banff), Poland (Piotrkow Tribunalski) and New Zealand (Christchurch), and via the internet on the production of several Squat installations. Each squat occupied a different architectural space ranging from a closet space and its adjoining room in Halifax, a 12 foot cube in the Walter Phillips Gallery at the Banff Centre (CD ROM), a vacant building (Piotrkow); a gallery storage space (Christchurch) and most recently in Halifax, a gallery window. Each squat installation contained a similar set of elements: a bed or couch, table, chair, computer with web access, a webcam, printer, a door scope (and in two instances a video projector) as well as access to washroom and/or cooking facilities. Advertisements were placed in local papers and handbills distributed requesting the participation of one or more individuals who were prepared to occupy the space for periods of a few hours to several weeks in order to collaboratively produce a text. In the first squat in Halifax Jon David Welland, a managed schizophrenic wrote and broadcast several dramatic dialogues. Barber and Welland also collaborated on the formation of a group for writers. In the Banff Centre Squat, Katherine Grant a homeless woman occupied the squat for two months and produced a diary, several short stories, drawings and a video tape. In the recent squat installations an exquisite corpse novel is being produced collaboratively by visitors to the squat or via the web site. With its associated chat room and links the web site also provides opportunities for homeless, itinerant or otherwise disenfranchised individuals to communicate with each other about squats and squatting on the world wide web.
1.See Leger, Marc "Squatting on Shifting Grounds: An interview with Bruce Barber and Katherine Grant" AfterimageVol.29:1 July/August 2001 pp 10-11 www.novelsquat.com
Project Stimulus for the Barber Summer Workshop Proposal "Tree House Squat"

By Bruce Barber on March 30, 2010
A report arriving in my Inbox Friday 15th January caught my attention:
BULGARIAN ROMA CELEBRATE NEW YEAR
"All Roma groups in Bulgaria celebrate Thursday 14th January 2010 the Roma New Year also known as Vassilitsa, the Day of Vassil (Basil) or Bango Vassili (the Lame Basil).
The celebrations have their origins in several Roma legends. In one of them Bango Vassili is a guardian and defender of the Roma and rebuilds the bridge used by them after it has been destroyed by the Devil. In others, he is a lame shepherd rescuing a drowning Roma child or giving shelter to a Roma trying to escape his enemies.
Another legend tells that St. Basil had saved all Roma from drowning in a stormy sea by sending them a flock of geese. The Roma climbed on them and were able to reach a safe shore. Since then they honor their Savior on January 14 and call the holiday Vassilitsa.
Bango Vassili is a family celebration and poultry on the table is a must. It also includes stuffed cabbages, bread, wine and home made brandy known as rakia. In all Roma groups the dinner on the eve of January 14 is of prime importance and includes rich symbolic. The meal is blessed and all are given forgiveness by kissing the hand of the person they might have offended. All houses where Bango Vassili is celebrated are to remain locked until midnight on January 13 to prevent luck from escaping. Only after the arrival of the New Year and the Day of St. Basil, the Roma begin accepting guests, hoping the first visitor to be a good person, who will bring them luck."
Sofia Morning News newssender@bba.bg

From Gabrovo to Ashburton
By Lucy Ridsdale on October 10, 2010
Marnie and I (Lucy) just met up for coffee in my home suburb of Ashburton (as in where I grew up, not where I live), where I've been staying for a few days meeting my new baby nephew Benji. I loved making the bridge between Gabrovo and here... two worlds that seem very far apart and are now next door. We took a photo of us with a Gabrovo map scarf and laughed at our memories of ASSiST. It's amazing the different perspective we all have and take away with us!... I mean, not really amazing, but still a surprise, somehow.
Anyway, I wanted to make a blog post and share an article I've written called "Dancing, Debating, Derive, Diversity - on the way to a Literacy of Complexity" ... which you can read here: Cultura21 article (2).doc
In two weeks I'm off walking the Bibbulmun Track, a thousand kilometres through the stunning landscape of the south west of Western Australia... A pilgrimage of sorts as part of my Honours research. I'm looking at long-walking as a transformative practice that creates in the walker a shift from entitlement to gratitude. And I'm arguing that this 'flavour' of transformation is what is required in order to make a sustainable future. I'm tossing up ideas as to how to blog about it, and I think I will post things here along the way.
Hope everyone's well and happy, and enjoying the walking however that's showing up.
Lucy

Still walking
By Marnie Badham on September 24, 2010
Hello Gabrovo walking friends!
So lovely to meet you all and work/ play together. Sacha (sacha.. sacha... sacha...) thank you for posting the videos and everyone else for the photos. I need to go through mine and share as well!
Upon my return to Australia, I have continued walking. I walked through/ over and around the Red Centre, Uluru,Kata Tjuta, Kings Canyon, Katherine Gorge, and Kakadu Falls... can't stop.
Could someone please forward me the list of email addresses of all of our participants? I must have been missed in some group emails before Gabrovo. You can find me at marniebadham@gmail.com.
With warm memories,
Marnie X
flapping kalinkas
By Carlos Jimenez on September 1, 2010
By sunny smiles, sweetly spurred.
Still waved in rumorous crew.
O2 crowding on the left lang,
left aside by such handed slang.
While a
kind of Lusospainglish tongue jam,
eagerly whispering beyond spam.
Who lies seeding the worries,
if future lies where the boundaries blur.red?
To see the seed.mente truffed by NorthSouthWestEast,
raising from water, salt, flour, "fleurs" and yeast.
Assist,
from still life to spinning alive,
a flapping kalinka's beginning the flight.
I bet to be touched by a burning hedgehog,
talking the walk with the Bulgarian word for HOPE. Gabrovo, 2010

WORKSHOP/ART ACTION: Cosmopolitan Grove

By Alicia Marván on August 21, 2010
Dear ASSiST colleagues,
I so wish I could be in Bulgaria with all of you! The activities and content planned look amazing! But due to finances and my new full-time teaching job, I will have to remain in Mexico. Sacha was kind enough to help me coordinate in making my project a reality--I thank him immensely, and hope you all participate! Attached you will find the project's overall idea, and Sacha will communicate more details in person.
Have an amazing and productive week!
Alicia Marván
M E X I C O
We are here!
By Oleg Koefoed on August 20, 2010
Dear everyone at and around ASSiST2010 - we have arrived at the Hotel Balkan, and can proudly report: the internet connection is working.
We will be posting thoughts,texts, video shots, etc here from tomorrow and on.
Welcome to the summer school!
walking a definite version

By Dr. med. Wolfgang Guenther on August 14, 2010
without a stage of flight...
in front & behind, over & over,
a cerebellar product without crutches
between lie & fly & sit & run -
sudden death walking?
second last or the second of 2 last,
to be yes last of the latter...
walk lines & lies, walk life,
walk cats & dogs, downhill & uptown,
walk times on knees, walk 2 or more-legged, being a biped,
walk twice, walk twice alone &
walk it with a different pair of shoes,
walk for honey, walk doubtless,
for doubtless honey,
walk the fall, e.g. dipterously,
follow the stick
before you come to a standstill.
repose whilst... yes, there are other places
& don't you hesitate to use all your space
while walking kind of a man,
ho, yes, walking mankind, walking them all -
kneelwalk, sitwalk, flywalk,
run-walk-run-ratios need to be watched,
the body-mass-walk-indexes,
fight hunger - walk the world
instead of flying horses to Emirates.
walk the trails of salt like a Cistercian,
walk on the wild side -
fox trot promenade walk, that's it...
jail walk watcher, hear me!
walk with authority, walk
for money & for example against breast cancer.
Yes, walk all the etceteras!
Ho, artificial is the sustension of body & soul!
all locomotion is without any alternative:
please, use yourself & none of the others,
whenever you're up to walk...
a frighteningly large percentage don't depend on Adidas or Nike...
promenading is, yes, so utterly despicable,
as some of us might say...
walk as a human being
don't stop... right foot next
walk with the word
walk with the words & decibels
fly to walk & walk to fly...
how educational a walk can be:
the ends go marching 1 to 1,
the last one stopped to have some fun.
the body language:
posture & appearance, the face,
the voice, the smile, perhaps the eyes,
the ears, the breath, the taking of
& that what's in between...
the way you move
& all the ways you walk when moving...
suddenly being somewhere...
the gods of walk- & runn-ing:
42,195 km & dear Pheidippides...
getting properly dressed to walk the moon
what? overthere?
hobble, stagger, stumble & crawl,
toddle, edge, lope, finally lollop,
tear, lurch & tiptoe at one's best
& stroll, rush, hop, trip, slip, dash, dart,
& scamper, sprint & jog & amble,
saunter, wander, yes, yes, yes
& , yes, of course, to know
to roam, to ramble & to mooch,
meander, stride, strut, shuffle, stump,
ho, plod, pace, march,
& in any case be sure: parade,
creep, sneek, prowl, slide & scuttle
& swagger, stalk, sashay, tripover,
lunge & scramble, trudge,
to hike, to trek, yes: paddle, wade & waddle,
to prance & don't forget to skip & scurry
before you start to limp... it's all
our grammar dealing with the gravity...
walking the prepositions,
walking the future now,
marathon culture of all things
that need to be sustained & be sustainable
while without stage of flight...
& I walked down the street in Dolores
past the old paper mill, it was warm,
it started to rain & it felt like love...
nula horo (lak)
wolfgang guenther
2010july10
(translated from esperanto)

Bringing (bread) stamps and...

By Nadezhda Savova on July 27, 2010
The first part of the "Walking with Community Architectures" involves a surprise element of a special kind of walking I will keep in secret. For it, thought, it would be great if you bring along from your country a kind of a stamp that you can place on dough ( it could a form made of stone, wood, metal, papier-mache, even plastic but preferably natural materials), best if it is a flat object with an engraving on it. The stamp will be useful both in the Bread House workshop and, I believe, the walking sticks workshops, we will see with Barbara.
Again, I want to encourage people to think of what they want to share as bread decoration examples: what forms from douhg or from stamps/wooden or plastic forms brought from their countries they want to place on the their breads, what shapes the breads could be, etc. And also, stories, legends,memories and traditions related to bread from your cultural backgrounds. It would be great if there are any jokes or humorous expressions related to bread that you can share.
Lastly, the Bread House is collecting bread-related objects from all over the world and if anyone wants to bring something and give for the collection, it will be deeply appreciated!:-)
About virtual/online participation at the summer school
By Sacha Kagan on March 2, 2010
Dear visitors on this website,
A member on this online platform asked me whether there is a possibility for an "online participation at the summer school".
We have created this web platform primarily for the 'physical' participants at the summer school, so that they can have preparatory discussions before the school, and further exchange after the school.
However, anyone can "sign up" on this website, follow what will be happening here, starting around April, and comment on it or add their own inputs. But we kindly ask them to indicate clearly in each of their contributions on this platform, that they will not be physically present at the school in August.
We will not formally call this kind of activity an "online participation at the summer school", because the experience of the summer school will be very much a bodily experience, which cannot be realized virtually (and even if we had a live video stream at the school - which we will not have - it would have very little value and be unable to convey the experience of the school properly). So we don't want to foster any illusion that a virtual "participation" would be possible. Rather, a virtual "open exchange" is possible on this online platform, with people who will be outsiders to the school and may bring different insights through the online exchange.
Furthermore, this virtual open exchange will continue after the first edition of the summer school, sharing, discussing and expanding upon the insights from the school. The online platform will also serve as a bridge toward future editions of the summer school...
Best regards,
for the Summer School organizing team,
Sacha Kagan
Squat/Site/Camp/Site workshop
By Bruce Barber on March 30, 2010
With respect to the disenfranchised Roma populations throughout Europe this workshop will provide an opportunity for participants to discuss strategies for the animation of collective spaces in terms of transit spaces, temporary campsites, squat sites in permanent, physically present buildings in communities, for in transit and traditionally nomadic people such as the Roma and new 'nomadic' groups such as migrant workers following global capital, immigrants; intra and external exiles. The workshop participants will consider the building of a space or spaces during the workshop that will enable sustainable living for a disenfranchised group of individuals or a family. This project will be in negotiation with on site participants and local agents and non-government organizations and community workers.