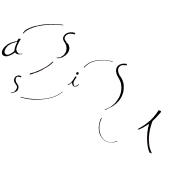 Forum 2010
Booklet on Walking
By Sacha Kagan on August 12, 2010
As one of the outcomes of a seminar I taught in the past months at the Leuphana University Lueneburg, and as an appetizer for our summer school in Gabrovo, we prepared, with a few students, a short booklet entitled: "Walking in life, art and science : a few examples": for all participants at ASSiST 2010 who still have time to read it before , and of course also for everyone else with interest in the topic:
The booklet contains: an introductory article about the history and art history of walking in Europe; an article introducing German "Promenadologie"; an article about one postcolonial work of HMJokinen in Hamburg; an article about a walking experiment/performance organized by one student at my seminar
For Better Pavements: Public Policy, Citizen's Initiatives & Media
By P. Radhika on July 12, 2010
Here are some links to discussions on the need to improve pavements. These would largely be what I have called in the workshop note as citizen-centric perspectives, though interestingly not always exclusionary:
A draft report submitted by Bangalore Metropolitan LandTransport Authority (BMLTA) a public body, arguing for investment & planning for better pedestrian facilities. BMLTA signals attempts at government-public dialogue over city-related infrastructure issues:
Praja (Citizen), a civil society group interested in civic affairs discusses pedestrian infrastructure and what needs to be done to improve sidewalks:
Weblink: http://praja.in/en/gyan/walking-bangalore-amenities-pedestrians
Jayati Ghosh, Professor in Jawaharlal Nehru University, Delhi and a well known columnist of a national fortnightly 'Frontline', discusses the state of sidewalks in Indian cities:
Weblink: http://www.macroscan.com/cur/feb09/cur030209footpaths.htm
A post from a blog "Urban Good Governance":
Weblink: http://urbangoodgovernance.typepad.com/urban_good_governance/2005/08/wheelchair_test.html
Articles on Cultura21's webmagazine in preparation for ASSiST
By Sacha Kagan on July 15, 2010
Please find 3 articles published on the English section of Cultura21's Webmagazine, at http://magazin.cultura21.de/english !
These 3 articles are published in preparation for the 1stInternational Summer School of Arts and Sciences for Sustainability inSocialTransformation (ASSiST : on this website), from August 21st to 27thin Gabrovo, Bulgaria:
- The unusual trajectory of a Pakistani artist (by David Knaute in Karachi)
- Disappearing Pavements: Diminishing Spaces for Cultural Performances (by P. Radhika in Bangalore)
- Steps to an Ecology of Art, or A Short Walk to Complexity (by David Haley in Manchester)
By the way: Besides these articles, I will also post here on our ASSiST website, in mid-August before the summer school starts, a booklet (PDF file) realized by the students in my seminar on walking at Leuphana University Lueneburg. This booklet will share some further insights about German practices of walking as transdisciplinary action-research...
Links to walking projects
By Ferehteh Toosi on May 8, 2010
I'm collecting some links to projects that involve walking. Not all of them deal with sustainability, but some do.
NYT - Pounding the Pavement From Up on a Pedestal
Weblink: http://www.nytimes.com/2010/05/08/arts/design/08gilmore.html?hp
Trails Project in Seattle, WA
Weblink: http://www.trailsproject.com/